Bionic Capital LLC
Bionic Capital is a full-service, fee-only investment advisory firm. We deliver high-quality, risk-managed investment strategies and individualized wealth solutions.
Bionic Capital
Among our many services, we offer:
Customized and transparent investment management
Retirement planning including no-load variable annuities and insurance
Tax-aware investment strategies
Trust investing
Options-Enhanced® investing
We manage tax-deferred retirement accounts, like IRAs and 401ks, as well as individual and trust accounts. Unlike some advisors, we do not automatically sell all your investments.  We first analyze your current portfolio and discuss the best options with you. When you agree with our plan, we will implement our strategies.
We always try to minimize trading costs and negative tax effects for you. See our wealth management page for more information.
Investments
Bionic Capital utilizes low-cost ETFs, no-load mutual funds, individual stocks, bonds and CDs, closed-end funds and other publicly-traded investment vehicles. Choosing an appropriate mix of investments may diversify a portfolio and help reduce the risk of loss.
Fiduciary service
Our goal is to help each client succeed. Bionic Capital and our advisor(s) are fiduciaries. We serve the best interests of our clients. We will work within your preferences, whether you need income for retirement or you desire an earth-friendly ESG portfolio.
To discuss your needs and how we may help you, please email us or call 310-734-8500.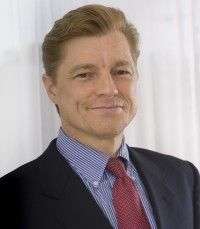 Dean Erickson, CFA, Founder and CEO
Dean graduated from Brown University with a degree in mathematical economics in 1982.  He began his investment career at Miller Tabak & Company in New York City as an options trader. Later, he managed a merger arbitrage portfolio for the same firm. He attained the Chartered Financial Analyst designation in 1987
More recently, he was a financial advisor in the Beverly Hills office of UBS Financial Services. In 2009, he founded Bionic Capital LLC where he oversees all client investments and relationships.
Dean has provided his insights and expertise to the Wall Street Journal, Structured Products magazine, and other publications. Hoping to help others live happier, more successful lives, he has written two personal development books, Choose Your Story, Choose Your Life and Act. Adapt. Achieve.
Dean and his wife, Lisa, live in West Los Angeles, CA.
Quickly and easily learn your suggested portfolio allocation. There is no cost or obligation, no contact information or email is required. 
BIONIC® is a registered trademark for "financial services, including investment management" and separately for "banking services." Please respect our trademarks.
Bionic Capital - Disclaimer
This website is for informational purposes only. It is not a solicitation or recommendation for the purchase or sale of any security or financial product. Nothing on this site should be considered tax, legal, insurance, or investment advice.
We may only transact business in those jurisdictions where we are registered unless otherwise exempted. Communications with prospective clients residing in jurisdictions where Bionic Capital and its representatives are not registered shall be limited.
Currently, Bionic Capital LLC operates as a sole proprietorship owned by CEO Dean Erickson, CFA. From time to time, we have hired and will hire additional investment advisor representatives.
Decisions based on information on this website are the sole responsibility of the person viewing the site. You agree to hold Bionic Capital LLC, its officers, employees, and independent contractors, harmless against any and all claims, losses, liability, and expenses arising from its use.
Discussion of Investing Risks
The value of an investment may go up or down. An investor may not receive the amount initially invested, and income, if any, may fluctuate. The value of an investment may be affected by a variety of factors. These factors include economic and political developments, changing interest and foreign exchange rates, as well as issuer-specific events. Past performance is not necessarily indicative of future returns.
Potential clients should consider their investment objectives and constraints, among other things, before choosing to work with us. Some of our investment strategies are only appropriate for investors with long-term time horizons. Contact Dean Erickson, CFA at 310-734-8500 for a discussion of risks.
Company Brochure
Click here to read our company's Brochure to learn more about how we conduct our business. Learn more about us on the SEC website.